Who Shares Posts? Millennials On Social Media
July 01, 2016 - Posted to How to: Essay writing tips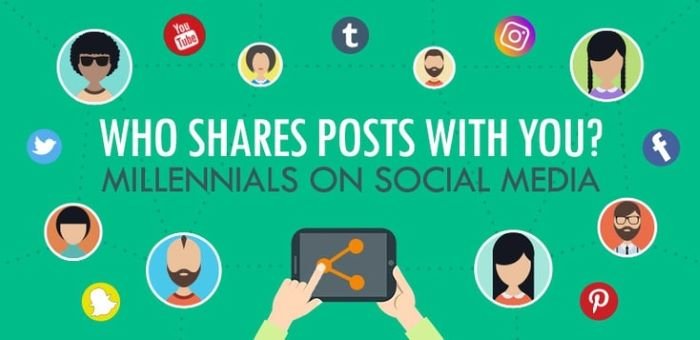 Social Media Activity Through Age Groups
If we speak in terms of social media, currently the Millennials tend to show high presence. It's not a big thing that the Internet presence is generated by mainly young people. However, if we dive into the statistics, we are to find that 90% of people in the USA within the age group of 18-29 spend their time online, while 77% ages 30-49 entertain with social media, which is not a small amount too.
67% of the millennials use their smartphones to stay posted with the social media. The shares of users distribute at 21% and 12% using their laptops and tablets accordingly. 3 out of 5 persons use more than one social network.
Evening appears to be the prime time for social media presence with 33% of users logging in this time of day, while 24% do it in the afternoon.
Here the security of user experience is not the last thing however. Generally, the millennials tend to dismiss Facebook for security reasons. 29% find it's privacy guarantee disturbing.
With visual platforms of social media block taking up the front-running positions, it's fair to say that ladies dominate it better. As they are more likely to share their photos while male users how more aggression on social media.
The range of interests is shared in quite equal parts within the range of 42-56% among business, education, science, sports, career, hobbies, gaming, health and science. While news are interesting to 75% of users, weather to 71%, food and cooking to 62% and travelling appeals to 59%.
Advertising is credible upon the recommendations of friends and relatives rather than self-promotion by the brands themselves.
The millennials are definitely the most influenced share of users by blog and social networks.
Below you can find an infographics depicting the statistics of millennials using social networks in details. Check it out for interesting facts.