Social Media Recruitment: Why and How?
November 05, 2015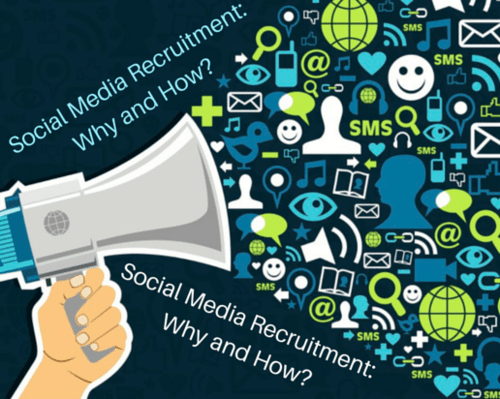 Why is Social Media Recruiting a Good Solution?
There are several reasons that adding social media recruiting to your overall employment and retention strategy is a good idea. First, recruiting through social media channels is far more inexpensive than placing advertisements on online job boards or purchasing print advertising. Getting the word out that you are hiring for a position over social media also makes that information available for sharing and reposting by others. This increases the number of people who are reached by your efforts. Another benefit is that your recruiting efforts will probably reach individuals who are actively searching for a job, and good candidates who are not actively on the search for a new job.
Start By Learning Where Your Potential Candidates Are Hanging Out
Social media platforms such as LinkedIn and Facebook are two of the most popular choices for social media recruiting. This makes sense, as the overwhelming majority of job seekers are going to be active on both sites. However, you shouldn't assume that these are your best options, or your only options. For example, if you are recruiting in a very unusual niche, you may want to find out where your ideal candidates are spending time. It could be that they are associating with each other through Google plus circles or other alternative platforms.
Let Your Employees Know You are Recruiting
Let your employees in on your recruiting efforts and encourage them to spread the word. The more folks who share your job openings, the more people you will reach. Besides that, your employees probably understand your staffing needs better than others, and will likely share your openings with qualified candidates only.
Think Beyond Facebook
They may not seem like obvious choices, but social media platforms like Instagram and Snapchat both have their place in your recruiting strategy. You can use Instagram to make connections with passive job seekers. You can also use Hashtags on your own photos to indicate that you are in the look for talent. Many companies have also found great success in using Snapchat stories to recruit talent. For example, you could create a fun Snapchat story about a day in the life of an employee at your company, or you could create a story depicting the neat technology or valuable training candidates may get to work with. Once you become active on Instagram be sure to tie your Instagram account to Twitter. This way your posts reach a bigger audience.
The key to using platforms like Instagram and Snapchat for recruiting is to make sure that you have created accounts on both, and that you are an active user. Don't wait until you have a recruiting need to join. Your lack of followers or posting history will set off alarm bells and your efforts could come off as being a bit spammy. In addition to this, refrain from begging for follow backs. Keep your content interesting and your followers will come to you naturally.
Create an Overall Social Media Presence That Demonstrates You Are a Great Employer
If you think about it, nearly every post that you make has the potential to be a recruiting post. You don't need to mention job openings to make your company seem as attractive as possible to passive or active job seekers. Do you throw fun events for your employees, have regular happy hours, or otherwise create a comfortable and fun work environment? Share pictures of that on social media? Do you go above and beyond when it comes to offering great benefits? Don't be afraid to brag about it! Even the content you share gives an impression to others about what it might be like to work for you. For example, if you share a lot of technical content, people who want to work with the best technology might be interested in working for your organization. Likewise, if you share a lot of humorous content, potential employers might see you as a fun, easy going employer. Make an effort to post things that you believe will appeal to your ideal candidate, but take care that you do not unintentionally create a false impression about your work environment.
Use Pictures and Videos in Your Recruiting Posts
Use visual content to make your recruiting posts more attractive to job seekers. If you blog about a job opening, include a picture of the team the interested candidates might be working with. You could also produce a video explaining the benefits that you offer and share that on YouTube and Facebook. You'll find that your posts are more likely to be shared if you use videos and other images. One, fairly new and creative technique is to create an infographic to give information about your company in visual form. If you are recruiting candidates for creative jobs, this might be more appealing to them than postings that are all text.