Research Paper On Child Abuse
August 20, 2015 - Posted to How to: Essay writing tips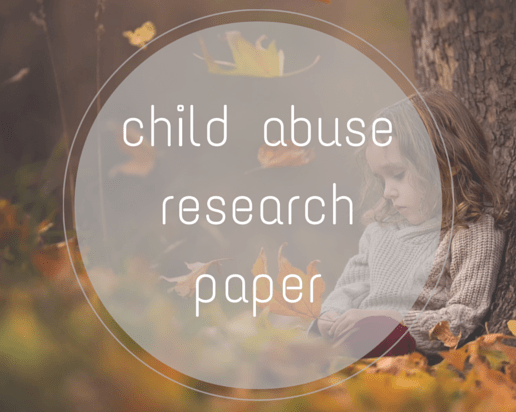 Writing a Research Paper on Child Abuse
What an emotional topic. Tragedies related to child neglect and abuse are in the news every day, and they are just heartbreaking. But, if we are ever to make progress on awareness and prevention, there are large conversations we must have, as a society. For you, a child abuse research paper may be a beginning. Such a paper may be appropriate for sociology, psychology, political science, religion or criminal justice courses, for it is an issue that crosses many curricular areas. And it's a critically important subject today.
Types of Child Abuse
Child abuse is divided into 3 categories – physical, sexual, and emotional. If you plan to write a research paper on child abuse, you must first reduce your topic to one of these three categories. Trying to handle all three in one paper is just too unmanageable.
Further Topic Refinement
Once you have narrowed your topic that much, you must then further refine your topic, given the amount of information and discussion "out there" today. Here are some possible refinements:
What are the sociological and psychological causes of the type of child abuse you have selected?
How are incidents of such abuse reported, documented and then reported in aggregate form? Here you will need to research the facts about child abuse in your category, and learn how they are gathered.
What do recognized experts and authorities say regarding how to stop child abuse. An entire paper could be written on this topic!
What needs to change in our justice system that might reduce incidents of child abuse?
How are we approaching treatment for child abusers so that we can reduce the prevalence?
What prevention methods are currently in place that address the mental health issues of child abusers?
How do we determine the line between discipline and physical abuse?
Getting the Paper Written
Now that you have determined the category of abuse and your topic within that category has been refined, you are ready to begin the arduous task of getting this paper produced. One of the problems with writing a research paper on child abuse is the sheer number of resources "out there," Finding the 6-7 most current and relevant for your topic can be a challenge for sure. And once you find those 6-7, there will be the study and note-taking, and all of the other steps involved in producing a paper that is going to result in a good grade. You may confront hurdles at any point in the process – just as you do with other papers you have written before. And, once that rough draft is completed, who will edit and proofread for you? This is always an issue with students – getting someone who is familiar with the topic and who also possesses excellent grammar and composition skills can be almost impossible.
Getting Help When You Need it
Research paper help is always available at UrgentEssayWriting.com. Whether you need everything from topic refinement to finished product, anything in between, or a professional editing, you can get it here! Tell us what you need through our order form or our customer support department, and you shall have it!