How to Write an Informative Speech: 4 Go To Tips
November 05, 2015 - Posted to How to: Essay writing tips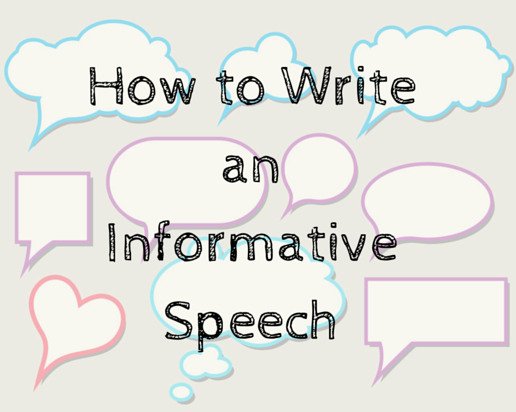 How to Write an Informative Speech: 4 Go To Tips
Learning how to write an informative speech does not need to be an overwhelming challenge. After all, it is simply you educating your audience on a topic that you know something about. Even better, there are a few tips and tricks that you can use to make the process of writing an informative speech relatively painless. If you are faced with the task of writing an informative speech for school or business purposes, just refer back to this post, and before you know it, you will have written an excellent speech.
Draw on Your Own Knowledge and Experience to Select Good Informational Speech Topics
The best informational speech that you can give will be based on something that you know. It will be even better if the topic is something about which you are passionate. So, sit down and write a master list of things that interest you and that you can talk about with a fair degree of expertise. As you write, don't edit yourself. Just get all of your topic ideas out on paper.
Once your list is complete, it is time to figure out which topic you will use. This is when you should consider your audience. How old is your audience? What is likely to interest them? If you have a few things on your list that stand out as appealing to your audience, highlight them. If you have a few items that stand out as topics that wouldn't be very appealing, go ahead and scratch those out. Next, take some time to consider which topics would be easiest for you to speak about. Use this process to narrow down your choices. Eventually, you should be able to pick a single topic that is perfect.
Write Your Speech Outline
Now that you've learned how to select speech topics for college students and others, it is time to write your outline. This should include an introduction of yourself, an introduction of your topic, the main points that you wish to make to your audience, and finally a conclusion to your speech. Your initial outline should be very simple and contain only facts.
Fill Your Speech in With Anecdotes Humor and Passion
You have chosen from your list of ideas for informative speech topics, and you have written a basic outline that is now the framework of your speech. What you want to do now is make your speech interesting. This means finding ways to get the audience to have an emotional response to your words. Depending on the information you are providing to them, these emotions could be excitement, anger, sadness, or even shock. In addition to this, you also want your audience to buy into your authority. You want them to believe that they should listen to what you tell them. You can do this buy telling relevant stories about yourself or others, providing them with interesting statistics, using an inspirational quote, or by using props or visual images.