How To Write A Literary Term Paper
August 13, 2015 - Posted to How to: Essay writing tips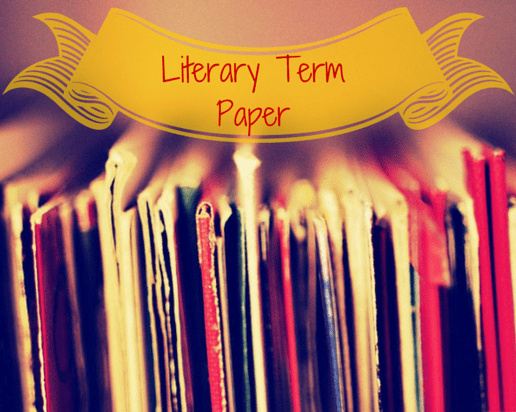 About Litrature Term Paper
Writing a term paper for a class in Literature involves selecting a literary work that was covered in the class, and then making that work the subject of a term paper. To learn how to write a literary term paper, it is probably a good idea to start with a definition. A literary term paper is almost completely synonymous with a literary research paper. It is a paper that a student writes after studying a literary work, researching other analyses of that work, and then composing a thesis statement based on their reading and research. Literary analysis is another term that could be used to describe this type of paper. If you are interested in learning how to write a literary analysis, the next few paragraphs have a few great insights.
Read the Literary Work Twice
It is important to read the work twice. The first read through should be to simply read the story, understand the plot, and get to know the characters. On the second reading, have a pen and paper ready. This is where you will begin taking notes. Here are some questions to keep in mind as you read:
Which characters are most interesting to you, and why?
Which characters do you feel are wasted in the story?
Which are the most and least interesting sub plots?
What is the motivation of the protagonist?
What is the motivation of the antagonist?
What, if any, plot inconsistencies are there?
Are their issues with technical or historical inaccuracies?
Does the work flow well?
Learn about the Author
It is nearly impossible to properly analyze a work of literature without understanding something about the other. Take some time to learn some biographical information about the author, and to familiarize yourself with the author's other writings if they exist. You may find certain patterns among their writings that could make an interesting point in your term paper.
Use Balanced Sources
When you write a literary term paper, you must include others' analysis and opinions as well as your own. When you do your research, try to find sources that represent a variety of opinions and understanding of the work. This should include using resources that run counter to your thoughts and opinions on the written work. By doing this, you will be able to finish a term paper that is well-balanced and not overly critical or gushing.
Getting Term Paper Help
Knowing when to get help is a very important part of learning how to write a term paper on a work of literature or any other topic. Students who are too pressed for time, or have difficulty understanding the subject should definitely consider getting help from a trusted source. This help could come from an instructor, members of a study group, a tutor, or one of the writers at UrgentEssayWriting.com. The point is that asking for extra assistance is easy to do, and can make all the difference when it comes to the final grade on any term paper.