Sociology is a huge field of study
July 24, 2015 - Posted to How to: Essay writing tips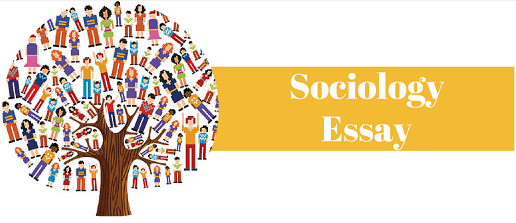 Sociology is a huge field of study
Almost anything that relates to people, its history, its values, beliefs, and traditions. Sociology is also a study of changes to a society as new ideas and beliefs often clash with older one. So it would be a common question for students to ask what types of essays and papers might be involved in a sociology course. The answer is almost anything.
Intro to Sociology Essay
Students in an introductory course on sociology might very well receive an assignment to write a "What is Sociology" essay, which will be primarily a definition essay, in which it will be important to research how authorities define sociology and then attempt to synthesize all of those definitions.
Another essay on sociology in an introductory class might be cause-effect, such as identifying the causes of a specific social change being tackled by a society. The entire issue of LGBT rights and gay marriage would be a topic of such an essay, for example.
Another assignment might be a "Why study sociology" essay, one that would be more along the persuasive essay type.
Topics for Other Sociology Courses
If you are majoring or minoring in sociology, you will have many courses that relate to specific aspects of the entire field – poverty, issues of minorities, marriage and the family, alternative lifestyles within a culture, contemporary social problems and issues, etc. These topics lend themselves to all essay types, including the following:
Explanatory (Expository): This type of essay will require you to provide a detailed explanation of the issues surrounding a current sociological phenomenon, such as abortion, the right to die, suicide, substance abuse, and so forth.
Cause-Effect: What have been the effects of the breakdown of the traditional family unit on American society?
Persuasive: Convince your reader that prison sentences for non-violent offenders should be reduced.
Argumentative: Take a stand on how much religion should influence the laws of a society and present both sides of the issue as you argue for your position
As you can see, not only does sociology essay writing encompass a huge diversity of topical areas, essays and papers may have widely diverse purposes as well.
How to Write a Sociology Essay
The structure of a sociology essay is not different from that for any other course. However, there will never be an essay in which you do not have to have research data and statistics to cite. The sociology essay, therefore, will always involve some solid research before it is written. Once that topic is researched, then, you will need to identify your thesis statement, and, as with all essays, prepare a piece that speaks to that thesis only.
As you tackle the sociology essay, you will find that, if you have options, you will have a much easier time writing the piece if you choose a topic in which you have great interest or about which you have very strong opinions. This makes the research and writing more enjoyable.
If, on the other hand, sociology is just not your "thing," and you are only in the course because it is required, you may struggle to get motivated. You can always call upon UrgentEssayWriting.com where there are sociologists who really love to write in their fields!