Domestic Issues America Faces - the Death Penalty
July 12, 2015 - Posted to How to: Essay writing tips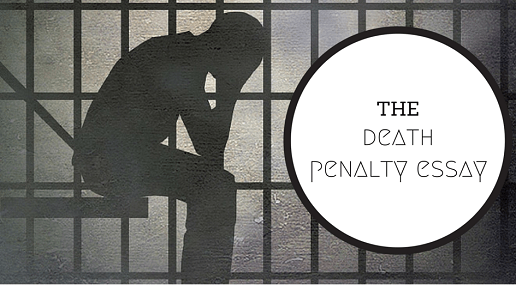 Domestic Issues America Faces - The Death Penalty
Of the many domestic issues facing the American public today, one of the most controversial is the death penalty. So, it is common that a death penalty essay is assigned, and, if not assigned, it is often a topic that students will choose for a persuasive or argumentative essay.
Because of the nature of a death penalty research paper or essay, a good one will require research. It is not enough just to have an opinion – you need facts and data to back up your positions.
The Persuasive Essay on Death Penalty Issues
For any persuasive essay, you will be presenting your opinion as a thesis statement and then supporting it with at least three points. So, for example, if you were going to write a "for the death penalty" essay, you will want to state that you are in favor of it in your introduction. For supportive ideas, you might include:
It is a punishment that fits the crime. Here, you would provide detail on the types of crimes for which criminals receive the death penalty in most states.
It provides closure for the family of the victim(s). Add quotes from an interview with a family member.
We have methods that make it very humane and quick. Site the methods most common used today.
Remember, in this type of "benefits of the death penalty" essay, you do not have to present the other side of the argument.
The Persuasive "Against Death Penalty" Essay
Your essay will be structured just as the pro death penalty essay. State your thesis in the introduction, and then provide at least 3 arguments that support that position:
It does not deter. Point to the statistics that show that the murder rate is no lower in states that have the death penalty
Life in prison without parole is a far more devastating punishment than the death penalty
We have wrongfully killed over 300 people in the last 50 years, and those are just the ones we know about. Almost all people on death row are poor and could not afford high-powered attorneys.
The Argumentative Death Penalty Essay
The purpose of this essay is to present your opinion and support it, but also to reduce the significance of the arguments of the other side of the argument. The easiest form of organization structure is to present your supported position and then present the opposing view. Another option is to take each argument and present both sides at the same time.
For example, the point may be whether capital punishment actually deters criminals from committing capital crimes. This is a common argument of those who favor it. Suppose you oppose the death penalty. Your paragraph on this point will provide facts and figures on capital crimes and point to the fact that the rate of these crimes has not been reduced in those states that have capital punishment.
The Pros and Cons of Death Penalty Essay
At other times, you may be asked to write an expository essay on the death penalty. This type of essay will not want you to take an opinion, but, rather, to present both sides of the argument in an objective way. Your thesis statement, then, will need to refer more to the fact that this is a "hot" issue today as opposed to how you feel about it.
Still another more objective assignment may be the "Is the death penalty effective" essay. Here, you will need to research the purposes that the death penalty is to serve (e.g., deterrent to crime) and cite facts and figures that either support or refute whether that purpose is achieved.
Essays and research papers on "hot button" issues are rather motivational, if you have a keen interest or a really strong opinion about the topic. They are also easier to write. If, however, you are "stuck," or struggling with a topic in which you have no interest, UrgentEssay.com can help you out.