5 New Content Marketing Strategies to Increase Traffic
December 08, 2015 - Posted to How to: Essay writing tips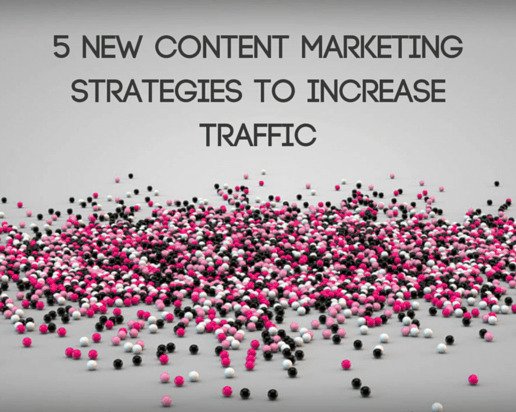 Customers are selfish. They don't care about your content marketing plans; they care about what you can do for them, what value you can provide, and how they can get the quality products and services they want easily and quickly. Your job is to do just that. With that in mind, you may need to re-think your content marketing to bring them to your blog and to your other site pages in greater numbers. Here are 5 things that may not be entirely new but which bear taking a long hard look at.
How Adaptive is Your Content?
You've heard about responsive design – it means that your website has been designed and tweaked for all platforms – PC's (including laptops), tablets and phones. If a visitor has accessed your site or any page on your site via a PC, then they should be able to continue where they left off on any other device and continue their experience –no hassles at all. If you want visitors to come back and stay longer, this is what you must do. Otherwise they will bounce and go to a competitor.
Take a Closer Look at your Headlines
If you are driving people to pages on your site through social media, then the most important thing you can do is have a headline that appeals to emotions. Some of those words include "fastest, easiest, cheapest, how to, increase, 5 great ideas, 7 proven methods, 3 powerful steps," etc. What you are doing is giving the reader who has an immediate need and who wants some answers a reason to check out what you are offering in the way of solutions. Putting numbers in a headline is always good, and, oddly enough, odd numbers to better than even (ergo, the headline above). Your headlines go on social media – your great content that gives the readers exactly what you promise goes on your landing page.
Speaking of Landing Pages
Increase the number of landing pages on your site. Each page should relate to a keyword/keyword phrase that would be a search term your target customers would use. If you sell several products, create a landing page for each one; if you have different levels or service, create a landing page for each one. This helps segregate your audience so that they can come to exactly what they are looking for rather than have to navigate around your site for exactly what they want. For example, if you are a clothing retailer, you will want a landing page for each type for clothing you sell. Of course you will have links to all of those pages, probably through a search bar or a listing on your left rail. But provide the link to the specific landing page when you post something on social media about a specific type of clothing you carry. The faster and easier you make it for your customer the more traffic you'll get. Here is an example of how "Copyblogger Media" does it. They have categorized everything, based upon a keyword that their target audience will use to get exactly the information they want.
And each landing page has a title and a great design. Now, when searchers use those longer tailed keyword searches, and they are in your titles, you page will come up as closely matching.
Provide Participation and Interaction
Everyone likes to participate – surveys, polls, quizzes, naming things, etc. And there are lots of ways to drive traffic to your site by posting the invitation to participate on social media sites your audience is on. Check out ModCloth's Facebook page, for example. They are continually running contest to name a new item they have just acquired – if your name is selected, you win the item. But, to enter, you have to access their site.
When you use participatory and interactive content, the likelihood that it gets shared is much greater, and sharing is what brings in more traffic from potential customers you never would have reached otherwise.
Re-Purpose Good Content
It is assumed that you are using analytics to determine the most popular content you are producing and publishing. If you are not, then you are "shooting in the dark." When you discover the content that was most popular, re-purpose it. Turn good text into an infographic; create a short video (even animate it); make an infographic interactive where it was not before; create a quiz to "test" your readers on the content from a blog; take several related blogs and create an e-book that you offer for free in exchange for an email address. There are amazing free tools out there to do this, and re-purposing will appeal to different audiences within your target market.
Content marketing is constantly evolving. You need to evolve with it. Keep up on the latest strategies that others are using successfully, particularly your competitors, and incorporate what is working for others into you plan.